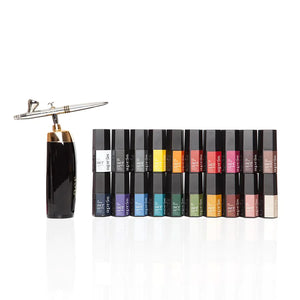 Aer Gel Kit
Expertly crafted and manufactured in Germany, our Apres Aer Gel set is quite possibly one of the most advanced in its industry. Our stainless steel Aer Gel Airbrush have been carefully engineered to deliver the most immaculate and perfect airbrush finish for any gel look. Our Aer Gel Machines have been meticulously crafted to provide a streamlined and comfortable hand piece. And included in this collection are all 20 Aer Gel colors, gels carefully formulated for their rich pigmentation and smooth coverage. This Aer Gel collection provides you with everything you could possibly need to create the most stunning, flawless nails you can imagine.
Included:
Aer Gel complete color collection (20 colors)

Aer Gel Airbrush




Aer Gel Machine w/charger
Disclaimer: This item currently only ships to 48 states in the U.S. please check to see if it is available for purchase in your location before placing order.