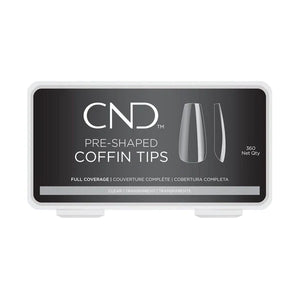 CND Nail Tips - Coffin 360ct
Create an effortless coffin shape shape in no time! Get sculpted looks using our clear nail tips so you can get bold edgy nails your client's will love.
Pre-shaped Professional-quality Micro-contact area and clear nail tips made of the finest virgin ABS plastic designed with varied structural points for strength and flexibility.
What It Does
• Extend the natural nail to desired length.
• Correct the appearance of misshapen nails.
What Else You Need to Know
Each pack comes with 360 nail tips
Additional Details
Item Name: CND Nail Tips - Coffin 360ct
Manufactuer: CND
Type: Nail Extensions
UPC: 639370012834
SKU: CNDM-12834
Weight: 244 grams - (0.54 lb)
Condition: New