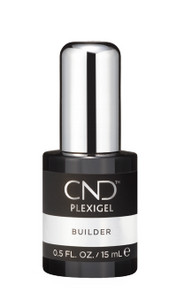 CND PLEXIGEL BUILDER 0.5oz
A clear brush-on gel enhancement that provides strength, architecture and moderate/long length to the natural nail. 
Creates strong, clear, lightweight, medium to long enhancements. • Provides versatile service options; can be used over a tip or a sculpting form for customizable length. • Repairs broken nails for longer lengths. • Allows for building an apex and architecture on nails requiring more shape or length transformation.