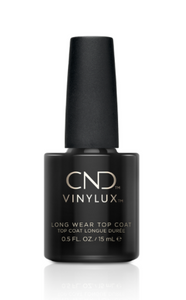 CND VINYLUX LONG WEAR TOP COAT 0.5 fl oz
A top coat with ProLight Technology™.
Creates an outer shield with time-enhanced durability that protects CND™ VINYLUX™ Long Wear Polish from scratching, denting, chipping and dulling for up to a week of wear. • Activates cross-linking polymerization which increases durability when exposed to natural light.