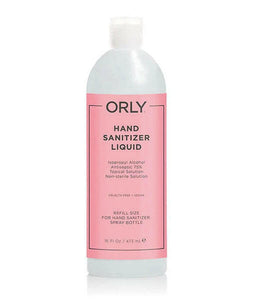 ORLY Hand Sanitizer Spray 16 fl oz size
Pocket/Purse Size for PROTECTION ON THE GO!
Formulated with just 4 essential ingredients: 75% Isopropyl Alcohol, Glycerin, Hydrogen Peroxide, Purified Water USP. No fragrances or oils added
Adhering to safety guidelines from the FDA, this product does not contain methanol.
Exceeds CDC recommendations for alcohol percentage
Each order includes a pack of four (4) 2 fl oz bottles.   
In light of the global pandemic COVID-19 and the alarming shortage of hand sanitizer, ORLY International has reconfigured its Los Angeles-based nail polish factory operations to produce 75% alcohol-based hand sanitizer. 
The first batch of 10,000 units will be donated to the City of Los Angeles with a special emphasis on serving the city's at-risk homeless population. 
Your purchase helps support continued assistance to first responders and vulnerable populations across our community.
75% ALCOHOL | VEGAN | MADE IN USA | CRUELTY-FREE